Hamza Moknii's days in the U.S. are numbered after his divorce from Memphis Smith. The 90 Day Fiancé couple's marriage could have been fraudulent.
90 Day Fiancé star Hamza Moknii's future in the U.S. is in jeopardy following news of his divorce from Memphis Smith. The 26-year-old Tunisian man connected with 34-year-old Memphis on an international dating app. Memphis wasted no time in getting married to Hamza, controversially during their first in-person meeting. While Memphis struggled with wanting to get Hamza to sign a prenup, it was too late. Memphis was also pregnant with Hamza's baby, something she discovered during their honeymoon, just a week after their wedding.
In the eight months they dated, 90 Day Fiancé's Memphis Smith and Hamza discovered they barely spoke or understood each other's languages. The language barrier, coupled with trust issues that arose from poor communication, created cracks that couldn't have been repaired. Hamza moved to the U.S. a month after Memphis gave birth to their daughter in October 2021. The couple stayed together until the 90 Day Fiance: Before the 90 Days season 5 Tell-All filming. In March 2022, Memphis and Hamza unfollowed each other on Instagram, and she scrubbed all evidence of him. Shortly after, texts between Hamza's sister Rawia and Memphis were leaked, in which Rawia mentioned her brother's concern about Memphis's close relationship with her ex-husband Justin Sandoval.
Related: 90 Day Fiancé: Hamza Moknii's Weight Loss & Model Makeover In Photos
90 Day Fiancé's Hamza & Memphis' Marriage Looks Fraudulent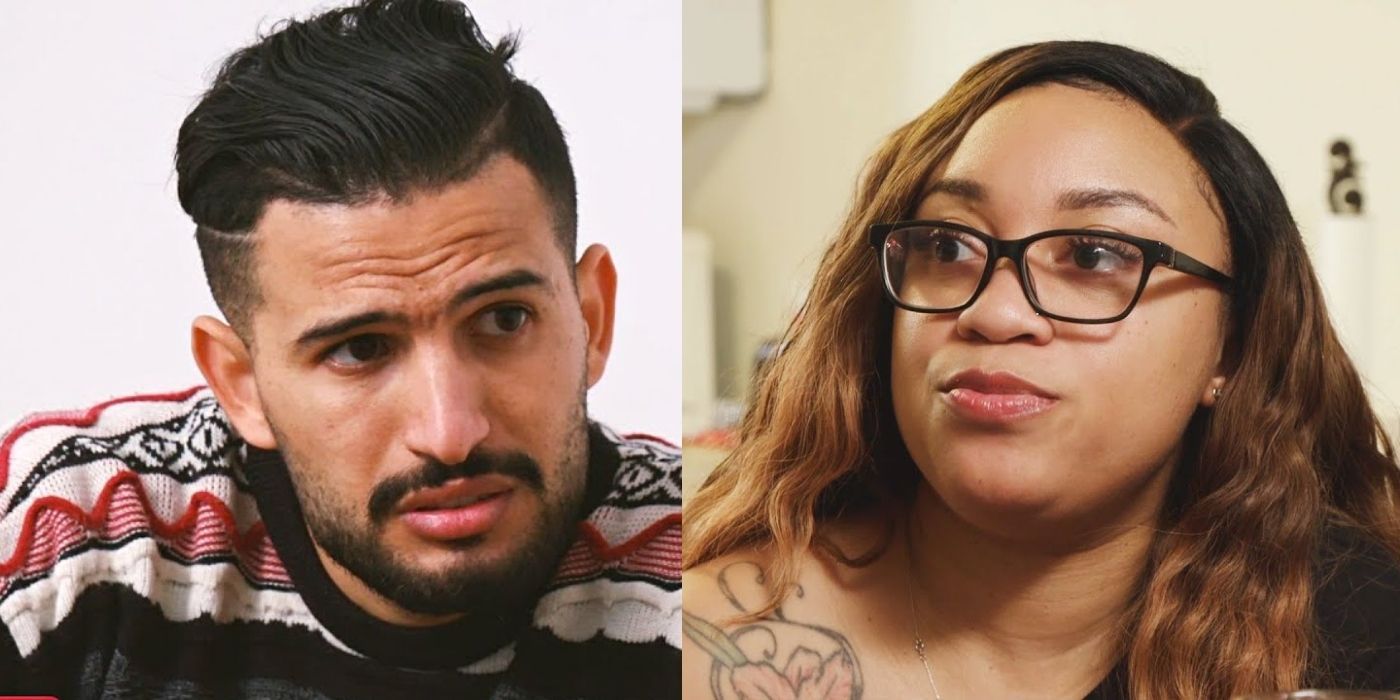 Hamza and Memphis were officially divorced in October 2022, a year after they welcomed their first child. According to InTouch, legal expert Kathleen Martinez revealed that "His marriage looks fraudulent" in case Hamza already had received a Green Card. Since it was within two years of marriage, it would be a "conditional green card." In that case, the condition for Hamza is to stay married. After completing two years of marriage, Hamza will have to apply to get these conditions removed, "and request to waive the spousal signature requirement." For the waiver, Hamza is required to prove "either he and Memphis" are married for "bonafide, natural reasons, or divorced for bonafide, natural reasons – AKA not for a green card." The legal expert said that Hamza and Memphis knowing each other for barely eight months before getting married and divorcing quickly after means it's going to be an "uphill battle" for Hamza to keep his Green Card status.
Why Did 90 Day Fiancé Couple Hamza & Memphis Get Divorced?
According to the text exchange between Hamza's sister and Memphis, Hamza was jealous of her ex Justin and the fact that Memphis used to visit his house alone. Memphis insisted Justin wasn't at home when she visited, and she couldn't "leave the children alone." Memphis called Justin a "good guy and good father," and claimed that without Justin's help, she wouldn't have been able to go to Tunisia in the first place. By January 2022, Memphis and Hamza were separated and engaged in a custody battle for their child. InTouch reported that 90 Day Fiancé star Memphis "alleged in the paperwork that he was physically and emotionally abusive during the marriage." Meanwhile, both Hamza and Memphis wanted spousal support from each other. Hamza also wanted a DNA test done on their baby because he claimed Memphis was pregnant with Justin's child, and he believed that his ex had "sexual relations" with Justin during their long-distance relationship.
Hamza was eventually asked to pay $291 by the court every month to the baby as child support, which confirmed he was the biological father of the kid. Meanwhile, Memphis filed for bankruptcy just a month after her divorce was finalized. The couple has stayed out of the spotlight since their last and only 90 Day Fiancé appearance. There still are a lot of missing links in Memphis and Hamza's story, but considering both of them are in hot water after their reality TV stint, it comes as no surprise that Hamza and Memphis don't want to reveal too much information in public.
More: Hamza's Most Awkward Modeling Videos That Embarrassed 90 Day Fiancé Fans