Following the introduction of Abby's mother Gina on NBC's Night Court revival, actor Faith Ford is hopeful she'll return to the series in the future.
Warning: The following contains SPOILERS for Night Court season 1, episode 8, "Blood Moon Binga."After guest starring on Night Court as Abby Stone's mother, Faith Ford expresses hope that she'll be able to reprise the role in the future. Night Court premiered in January and is a revival of the original sitcom of the same name, which ran from 1984 to 1992. The original series took place in a New York City night court, presided over by a young and eccentric judge, Harry T. Stone (Harry Anderson). The reboot sees his daughter, Abby (Melissa Rauch), take up her late father's former role and also recently introduced Harry's widow, Gina.
In an interview with TV Insider, Ford opens up about her guest appearance on Night Court and her hopes of returning in the future. Ford did not appear in the original Night Court series, as Harry was never married on the show. However, Gina did end up having some secret ties to the other characters, which resulted in some fun and conflict. In addition to meshing well with the cast, Ford reveals she's very open to returning to Night Court. Check out her statement below:
Well, you know what, I'll tell you one thing, I absolutely hope so. Everything is based on how it's received. If I had to judge it by what people here in Louisiana think, yes! [Laughs]. But who knows about the world out there? So let's hope everybody likes it, and they like what we felt, and it comes across to them, and then maybe they'll wanna see more. That's how I see it… Oh, John [Larroquette], there's already conflict there, which I love. Conflict is my favorite. Gimme more of that. Let me just tell you something [about] John: we can go there. And the fact that his character's from Louisiana, even though my character isn't, I can spar with him any day.
Related: Why Night Court Reboot Needs Marsha Warfield To Return
Who Is Ford's Gina Stone In Night Court?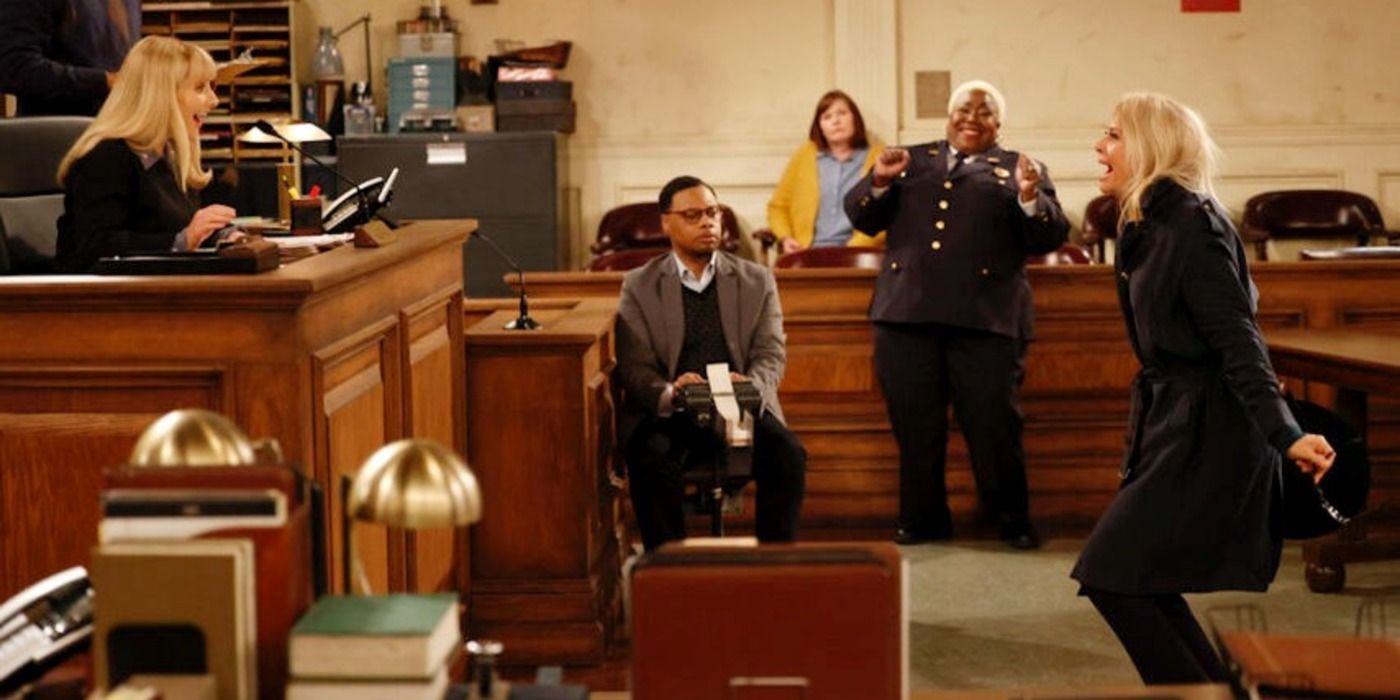 While it is unclear if Ford will return in Night Court's future, her initial appearance was quite significant in itself. This is because the show initially left the subject of Harry's offscreen love life a mystery. In the original Night Court, Harry's primary love interest was Christine Sullivan (Markie Post). A romantic relationship between the two was often teased throughout Night Court's run. However, there was no resolution regarding whether they ever got married; Harry and Christine kissed in the series finale, but that was where the original show left things, with Christine leaving the court right after.
Hence, when the Night Court revival premiered, there was the question of if Harry and Christine ended up tying the knot after all. Later, though, it became evident that Christine likely did not marry Harry. The reason for this is that Abby comes into contact with some of her father's former colleagues, including former district attorney Dan Fielding (John Larroquette). While these colleagues express their condolences to Abby and send their regards to her mother, they oddly never mention her by name. Given how close they were to Christine, it wasn't likely no one would mention she was Abby's mother.
With the introduction of Ford, Night Court finally settled the question of whom Harry married. He did not marry Christine, but a woman named Gina, who does have some sort of history with Harry's colleagues despite not working at the court. It turns out, she was actually tried in Harry's night court for running an illegal poker game. However, after serving her sentence, she and Harry reconnected, and they ended up marrying. With Harry's love story officially resolved, it would be interesting for Night Court to explore more of Gina's history and relationship with Abby.
Next: Night Court Revival Addresses Dan Fielding's Womanizing Past
Source: TV Insider